Father's Day is a day to honor the men who have played an integral role in shaping us into the individuals we are today. Whether it's a biological father, a stepdad, a grandfather, or a new dad, they have all contributed to our lives in their unique way. Furthermore, they have been our rock, our confidant, and our guide, offering unconditional love and support through all of life's ups and downs.
Therefore, In this blog, we've curated a collection of touching Father's Day quotes that will remind you of the immeasurable impact these men have had on your life. Moreover, these quotes are a tribute to their unwavering love and commitment, and they serve as a heartfelt expression of gratitude for everything they have done for us. So, let's take a moment to celebrate the men who have made an indelible mark on our lives and show them just how much they mean to us.
This Blog Includes:
Meaningful Father's Day Quotes For Any Man

Father's Day quotes for Dad

Father's Day quotes for Grandpa

Father's Day quotes for Stepfather

Father's Day quotes for New dad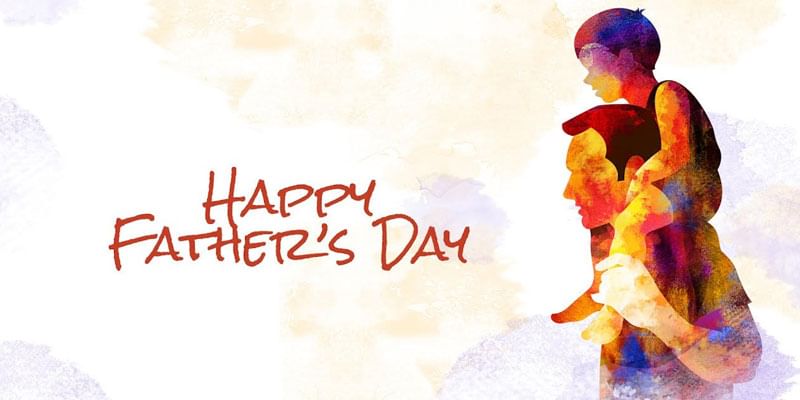 Meaningful Father's Day Quotes For Any Man
A man's real wealth is in his children…for they have spent all of the other kind. —Melvina Young
"It's only when you grow up and step back from him — or leave him for your own home — it's only then that you can measure his greatness and fully appreciate it." – Margaret Truman
It takes a man of gentleness and patience, strength and compassion to be the fine example of fatherhood that you've been. —Diana Manning
There are never words enough to thank the good men who helped us find our way into the world. —Jim Howard
DAD: Tiny little word. Great big difference. —Keely Chace
Bigger than the sky. Deeper than the ocean. Forever and for always. A Father's Love. —Jeannie Hund
With the love and attention of a good man, family roots grow deeper and stronger all the time. —Megan Haave
Here's to all the wise, funny, tough, gentle, playful, hardworking men who make a difference. —Keely Chace
He didn't think of himself as a hero, but heroes never do. —Stacey Donovan
A father grows dreams, each one a seed planted deep in the hearts of his children. —Mercedes Lucero
Father's Day Quotes For Dad
"A father's words are like a thermostat that sets the temperature in the house." – Paul Lewis
"By the time a man realises that maybe his father was right, he usually has a son who thinks he's wrong" – Charles Wadsworth
"Any fool can have a child. That doesn't make you a father. It's the courage to raise a child that makes you a father." – Barack Obama
"She did not stand alone, but what stood behind her, the most potent moral force in her life, was the love of her father." – Harper Lee, Go Set a Watchman
"A good father is one whose only reason for putting down a laughing baby is to pick up a crying one." – Linda Poindexter
"Daddies don't just love their children every now and then, it's a love without end." – George Strait, "Love without End, Amen
"Every son quotes his father, in words and in deeds." – Terri Guillemets
"It doesn't matter who my father was; it matters who I remember he was." – Anne Sexton
"Becoming a father, I think it inevitably changes your perspective of life." – Hugh Jackman
"It is a wise father that knows his own child." – William Shakespeare
"To a father growing old nothing is dearer than a daughter." – Euripides
"The best fathers have the softest, sweetest hearts. In other words, great dads are real marshmallows." – Richelle E. Goodrich, "Slaying Dragons"
"Dads are most ordinary men turned by love into heroes adventurers, story-tellers, singers of songs." – Pam Brown
"My dad's my best mate, and he always will be." – Cher Lloyd
"[My father] always provided me a safe place to land and a hard place from which to launch." – Chelsea Clinton
"Nothing has brought me more peace and content in life than simply being a good husband and father." – Frank Abagnale
"When you teach your son, you teach your son's son" – The Talmud
"My dad taught me that good health is all about living in gratitude." – Marishka Hargitay
"Great fathers don't find fault. Great fathers find solutions." – Reed Markham
"A man's daughter is his heart. Just with feet, walking out in the world." – Mat Johnson
"The power of a dad in a child's life is unmatched." – Justin Ricklefs
"Becoming a dad means you have to be a role model for your son and be someone he can look up to." – Wayne Rooney
"You can tell what was the best year of your father's life, because they seem to freeze that clothing style and ride it out." – Jerry Seinfeld
"A father's smile has been known to light up a child's entire day." – Susan Gale
"Fatherhood is a marathon, not a sprint" – Paul L. Lewis
"My father gave me the greatest gift anyone could give another person, he believed in me" – Jim Valvano
"There will always be a few people who have the courage to love what is untamed inside us. One of those men is my father." – Alison Lohman
"The strongest, toughest men all have compassion. They're not heartless and cold. You have to be man enough to have compassion—to care about people and about young children." – Denzel Washington
"There is no teacher equal to mother and there's nothing more contagious than the dignity of a father." – Amit Ray
"A girl's first true love is her father" – Marisol Santiago
"The greatest mark of a father is how he treats his children when no one is looking." – Dan Pearce
"A girl's father is the first man in her life, and probably the most influential." – David Jeremiah
"No man I ever met was my father's equal, and I never loved any other man as much" – Hedy Lamarr
"I've said it before, but it's absolutely true: My mother gave me my drive, but my father gave me my dreams. Thanks to him, I could see a future." – Liza Minnelli
"A good father is one of the most unsung, unpraised, unnoticed, and yet one of the most valuable assets in our society." – Billy Graham
"Every father should remember one day his son will follow his example, not his advice." – Charles Kettering
"It is not flesh and blood, but the heart which makes us fathers and sons." – Johann Friedrich von Schiller
Father's Day For Grandpa
"Grandfathers do have a special place in the lives of their children's children." – Alvin Poussaint
"Every parent knows that children look at their grandparents as a source of wisdom and security." — David Jeremiah
"When I embrace my grandfather I experience a sense of richness as though I am a note in the heartbeats of the very universe." – Tayeb Salih
"Grandfathers give us not only wisdom and encouragement, but they are an inspiration to us." – Kate Summers
"Recently I was tenderly hugging one of our precious little five-year-old granddaughters and said to her, 'I love you, sweetheart.' She responded rather blandly: 'I know.' I asked, 'How do you know that I love you?' 'Because! You're my grandfather!'" — Russell M. Nelson
"Grandfathers know a lot. I know this because I am a grandfather and I feel like I know a lot of things, and frankly I'm rarely wrong." – Blaine Pardoe
"A baby has a way of making a man out of his father and a boy out of his grandfather." – Angie Papadakis
"Grandchildren don't stay young forever, which is good because grandfathers only have so many horsy rides in them." – Gene Perret
"To a small child, the perfect granddad is unafraid of big dogs and fierce storms but absolutely terrified of the word 'boo'." – Robert Brault
"When I think of all the blessings in my life, Grandpa, you are right there at the very top of the list!"
"My grandfather did a lot of things in his life. What he was most proud of was raising his family." – Tagg Romney
"Being a grandfather is one of the true joys of life; it is an awesome time." — Catherine Pulsifer
"My grandfather was a wonderful role model. Through him I got to know the gentle side of men." – Sarah Long
"Grandpa got us up early, otherwise we might miss something. Sunsets, he loved 'em. Made us love 'em." – Lucille Ball
"One of the most powerful handclasps is that of a new grandbaby around the finger of a grandfather." — Joy Hargrove
"My grandfather once told me that there were two kinds of people: those who do the work and those who take the credit. He told me to try to be in the first group; there was much less competition." — Indira Gandhi
"When grandparents enter the door, discipline flies out the window." Ogden Nash
"You have to be young to be a grandfather. If you aren't, being a grandfather will make you young again." – Zezima Jerry, "Grandfather Knows Best"
"Deep down, I always knew, that you really care for me, your harshness was fake, it was for me to make, the most out of love, I truly love you, grandpa, you are and will remain the best in life, love you so much!"
"'Grandpa, how much do you love grandma?' 'Even in our late sixties, that smile on her wrinkled cheeks still gives me butterflies.'" — Abhi
"Children look at their grandparents as a source of wisdom and security." – David Jeremiah
"Young people need something stable to hang on to — a culture connection, a sense of their own past, a hope for their own future. Most of all, they need what grandparents can give them" – Jay Kesler
Father's Day For Stepfather
"It's not flesh and blood, but the heart that makes us father and son."—Johann Schiller
"A stepparent is so much more than just a parent; they made the choice to love when they didn't have to." – Unknown
"My stepdad may not have given me life, but he sure has made my life better." – Gerardo Campbell
"He adopted a role called being a father so that his child would have something mythical and infinitely important: a protector."—Tom Wolfe
"When someone takes you on as their own when you're not biologically their own, I think is really special … [My stepdad] didn't have to raise me. He wanted to." – Jonathan Van Ness
"Anyone can be a father, but it takes someone special to be a dad, and that's why I call you dad, because you are so special to me. You taught me the game and you taught me how to play it right." – Wade Boggs
"My mom is my heart. But my stepdad was my role model, the hardest working man I ever knew." – Brian Urlacher
"My stepdad is probably the greatest man I've ever known. The best advice I've ever been given was when he told me to enjoy my life, because one day I'm not going to be as agile as I am now." – Justin Timberlake
"No man stands taller than when he stoops to help a child."—Abraham Lincoln
"Actions speak louder than DNA."—Unknown
"Not being biologically related to a child, doesn't make you any less of a parent."—Unknown
"Family isn't defined only by last names or by blood=; it's defined by commitment and made by love."—Dave Willis
"A stepfather means so many things… an understanding heart, a source of strength, and of support, right from the very start." – Unkown
Father's Day For New Dad
Fatherhood. It's as easy as A B C D. ALWAYS BE CARRYING DIAPERS. —Sara Quenzer
Because flying babies need strong arms beneath them…there are daddies. —Keely Chace
There's no buddy like a dad. —Ellen Brenneman
What's a daddy? He's a grown-up who never forgot how to play. —Keely Chace
Shh…There's a brand-new, big-hearted dad making sure a tiny little dream is safe and sound. —Jim Howard
One thing all dads have in common: On the day his kid is born, he's the luckiest man in the world. —Jake Gahr
NEW DAD: No job too big, no diaper too full. —Bill Gray
"Any man can be a father, but it takes someone special to be a dad." — Anne Geddes
"It's an ongoing joy being a dad." — Liam Neeson
"Son, brother, father, lover, friend. There is room in the heart for all the affections, as there is room in heaven for all the stars." — Victor Hugo
"To me, having kids is the ultimate job in life. I want to be most successful at being a good father." — Nick Lachey
"I had no expectations about fatherhood, really, but it's definitely a journey I'm glad to be taking." — Christopher Melon
"My father didn't do anything unusual. He only did what dads are supposed to do—be there." — Max Lucado
"My father didn't tell me how to live. He lived and let me watch him do it." — Clarence Budington Kelland
"Having a kid is like falling in love for the first time when you're 12, but every single day." — Mike Myers
As Father's Day 2023 comes to a close, let us carry the spirit of appreciation and gratitude for the special men in our lives throughout the year. We hope that these thoughtful Father's Day quotes have inspired you to express your love and appreciation to your dad, stepdad, grandpa, new dad, or any other father figure who has impacted your life.
What's more, Remember, a simple gesture of love can go a long way in making someone feel appreciated and valued. Let us cherish the memories we have with these incredible men, and continue to celebrate their role in our lives every day. Finally, Happy Father's Day to all the wonderful dads out there!